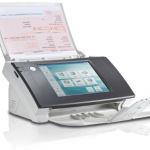 Den Satz "It's the economy, stupid!" kennen wir alle. Er wurde vor rund 20 Jahren durch den damaligen Berater von Bill Clinton, James Careville, im Wahlkampf um das Präsidentenamt in den USA bekannt. Careville soll ein Schild im Hauptquartier der Wahlstrategen Clintons aufgehängt haben, welches auf die zentralen Themen des Wahlkampfes hinweisen sollte. Ein Fokus auf die Wirtschaft sollte Clinton die nötigen Vorteile im Wahlkampf gegen G. W. Bush Senior bringen. Mit Erfolg wie wir wissen.
Wir von Run my Accounts sagen: "It's the process, stupid!" um auf die Vorteile eines industrialisierten Prozesses in der Buchhaltung hinzuweisen, ein Prozess wie er nur von Run my Accounts in dieser Form geboten wird. Einfacher geht Buchhaltung nicht: Belege einscannen, Zahlungen im E-Banking auslösen, fertig. Während andere noch mit dem Abtippen und Kontieren von Belegen beschäftigt sind, legen unsere Kunden in der Buchhaltung den Fokus auf diesen extrem einfachen Prozess und können dank unserer Online-Buchhaltungs-Software tagesaktuelle Zahlen mit intuitiven Grafiken auswerten.
Durch die zwei einfachen Schritte, erlauben wir unseren Kunden, weniger Zeit mit der Buchhaltung und mehr Zeit mit den wirklich wichtigen Dingen zu verbringen. Und wie ist das überhaupt möglich, bei diesen günstigen Preisen: It's the process, stupid! Wir geben die entstehenden Preisvorteile direkt an unsere Kunden weiter.
Wenn auch Sie von unserem Prozess profitieren wollen, kontaktieren Sie uns noch heute.